New York food that is native to upstate New York is often disputed because everyone wants to stake claim to the dishes.
New York -- the city principally but also the state -- has always been the multi-cultural center of the United States and the state has benefited from the contributions of the world to its cuisine from early the 20th century  -- typically with dishes that are uncomplicated (such as carb heavy conconctions with extra flour, tomato sauce or cream cheese), and sometimes that resulted from happy accidents in the kitchen (egg cream, which is neither egg nor cream) or invented by the need of the hour (fried chicken).
And there are the more visible foods from the street cart run by halal guys or simply, the late night vendor of hot dogs, the best dogs of course reputedly available on Coney Island.
Your bucket list for New York food -- and you can get this West Side, East Side and everywhere else in Manhattan -- will of course include the best known dishes including New York cheesecake, Reuben Salad, the Delmonico steak, Eggs Benedict, the Waldorf Salad, General Tso's chicken, and if you're mucking about SoHo, your idea of the food trend will include ice cream and the black and white cookie, even if it isn't from The Dominique Ansel Bakery, and Ansel reputedly invented the cronut.
But as you traverse New York state this summer, we need you to try dishes that are native to their regions. So we asked our pals across the state to recommend dishes that are typical New York food and here's what they came up with.
Beef on Weck - our #1 recommendation
You don't turn left upstate New York and not do Beef on Weck. It's a roast beef sandwich but uses a bread roll with caraway seeds and coarse salt, like rock salt, topped with grated horseradish. The bread is called a kummelweck in Germany, which is where this dish is thought to originate. This dish is rarely found outside the Buffalo area. In fact, few have even heard of Beef on Weck outside the region.
Buffalo Wings
The staple of the football match and a perfect pairing with the couch potato, Buffalo Wings are said to have been invented in Anchor Bar in Buffalo in 1964. Teressa and Frank Bellissimo owned Anchor Bar. One of the rumours is that their son Frank was coming home from college with his friends. After receiving the last minute news, Teressa deep fried the chicken wings (that would have been thrown away or used to make stock) and dipped them in Cayenne hot sauce. The dish then became a speciality at the restaurant and everywhere in the world. Restaurants in faraway Dubai and India feature this dish on their menus.
Salt Potatoes
Salt potatoes (not an accurate representation)
Typically served in summer, Salt Potatoes are a regional favourite in Syracuse, New York. While this is a side dish, it has gained popularity at fairs and barbecues in Central New York. Potatoes are boiled in salt water which gives it a unique texture and makes it creamier than baked potatoes.Syracuse is known for its production of salt, thanks to salt springs around Onondaga Lake. This was an invention of immigrants too. No points for guessing Irish immigrants.
Grape Pie
Finger Lakes is known for wine. But grapes are used for other things other than wine. That may seem like a shocking waste of grapes until you taste the Grape Pie. Luckily Grape Pie tastes like wine. That's because of the tannins used in pie making. German immigrants brought wine making and thus pie making to the region in 1824.
Spiedies
The sandwich of Binghamton that has meat cubes grilled on a spit over a charcoal pit. This carb and protein lovers go to dish is now available at all festivals and events in Upstate New York. The dish was brought to upstate New York in the 1920s with the Italian immigrants that settled in Central New York. "Spiedo" in Italian means spit; "spiedini" means cubes or balls of meat cooked on a skewer.
Club Sandwich
One version is, the Club Sandwich was invented at the Union Club of New York City. This is the earliest reference with the recipe: "Have you tried a Union Club sandwich yet? Two toasted pieces of Graham bread, with a layer of turkey or chicken and ham between them, served warm." The other version states that it was invented in the late 19th century in the Saratoga Springs gambling club. It first appeared on restaurant menus in 1899, again, all over the world.
Michigans
The official (read popular) street food of New York City likes to travel upstate too. Take a trip with the hot dog and meet its cousin, Michigans. What you may not know if the hot dog came to the City from Michigans from North Country. The hot dog is called a Michigan because of the trademark sauce. Even though it has apparently nothing to do with Michigan. The sauce is meat and tomato based and is supposed to have been created by Eula Otis, wife of Garth Otis. She learned to make it in Michigan and brought it to Plattsburgh somewhere around 1927.
Thousand Island Dressing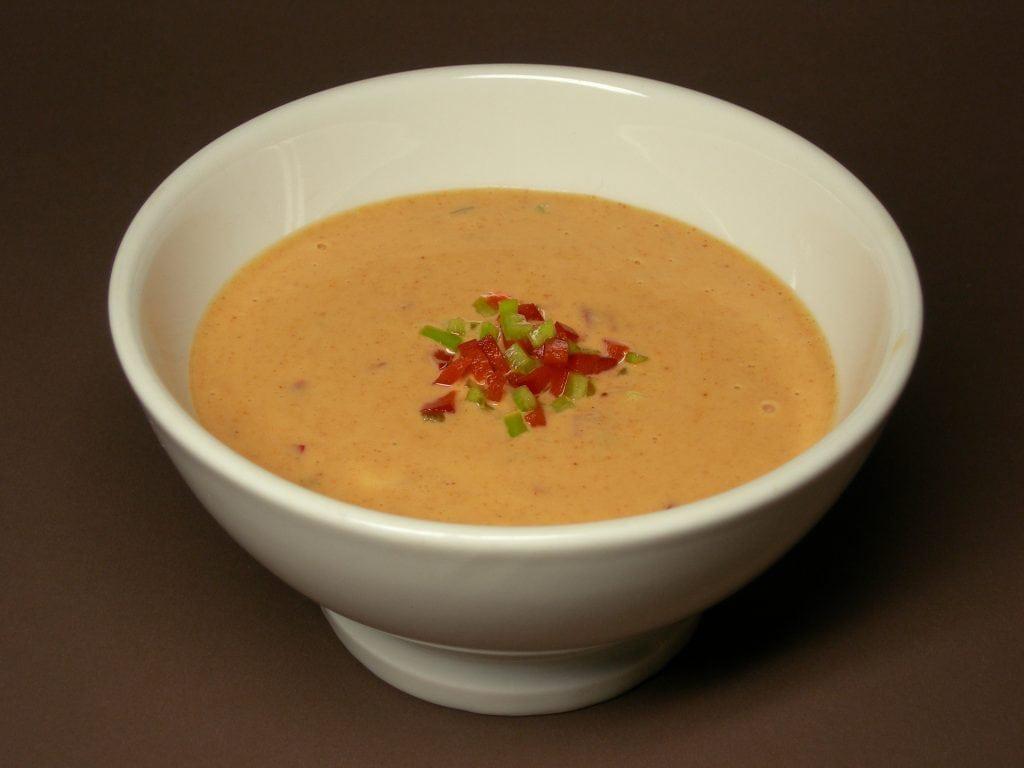 Along St Lawrence River lived fishing guide George and his wife Sophia LaLonde. She would make the condiment as part of the fishing guide's shore dinner. May Irwin, the actress requested this recipe after enjoying it. She in turn gifted it to another George, Boldt, who built Boldt Castle. He was also proprietor of the Waldorf-Astoria Hotel and instructed that the Thousand Island dressing be put on the menu in 1894.
Boston Shake
While it sounds like it's from Boston the Boston Shake is far more satisfying than a milkshake had in Boston. The Boston Shake is layers of hot fudge, whipped cream, sprinkles and ice cream that top a thick chocolate malt shake. It is rumoured have its roots in Canandaigua, New York. Not Boston.
Of course, we have focused on New York food that go beyond New York City, because the city merits its own encyclopaedia of food. In New York City there are over 12,000 bodegas, delis and groceries and many among them are open 24/7. We will write a separate story concerning New York food you must eat, by law, when in the city.
We leave you with a word to the wise. If you want to appear like a New Yorker whilst ordering a slice of plain pizza (base, sauce and cheese) anywhere in the state, ask for "a slice". Not "plain slice". Certainly not "Cheese slice". Just, "Slice".