Whether you're a hiking novice or a pro, we've listed the best fall hikes in New York state. If you didn't get a chance to hike during the summer (we know, it flew by so fast!), then don't miss the beautiful fall foliage that upstate NY hiking trails offer. Embrace the crisp morning breeze, hear the crunch and bristle of fallen leaves beneath your feet while your mind absorbs the fiery autumn forests.
Take your pick of the most popular trails from easy to moderate to hard. For stress-free navigation and tracking, download the AllTrails app to your smartphone.
Easy
Haines Falls, NY, Distance 1.3mi, Out & back trail, Elevation 184m
Enjoy this spectacular trail on the way up to a cascading waterfall which totals 260 feet in height, one of the highest in New York. As you pad along this 1.3 mile path at your leisure, take in New York's transition from warm weather to warm colors. Kaaterskill is good for families and dogs thanks to its well-marked and well-maintained course. We recommend you get there early to beat the crowds! Parking is located of Route 23A and can be tricky. Be sure to stay safe by walking on the other side of the guard rail.
Vroman's Nose Loop Trail in Central, NY
Middleburgh, NY, Distance 1.7mi, Loop trail, Elevation 177m
Take a pleasant walk along this easy, quiet 1.7 mile trail to appreciate the beauty of a farm valley nestled in the fall foliage below. The point from which this path gets its name juts out above the valley for a remarkable view. This hike is appropriate for any skill level and is perfect for a morning outdoor fix. The trail is kept in great shape and is easy to navigate.
Moderate
Gorge Trail and Indian Trail Loop in the Finger Lakes Region
Watkins Glen State Park, Distance 2.5mi, Loop trail, Elevation 200m
If you like waterfalls then you should plan to hike this 2.5 mile trail. Gorge Trail and Indian Loop is famous in the Lake region for its small rivers and 19 waterfalls which are formed from a 400m slope past 200ft of cliffs. Even more spellbinding are the flaming leaves that crest the gorge's rocks. The trail is moderately trafficked and is used for hiking, walking, camping and fishing.
Cascade to Porter Mountain Trail in the Adirondacks
Keene Valley, Distance 5.6mi, Out & back trail, Elevation 726m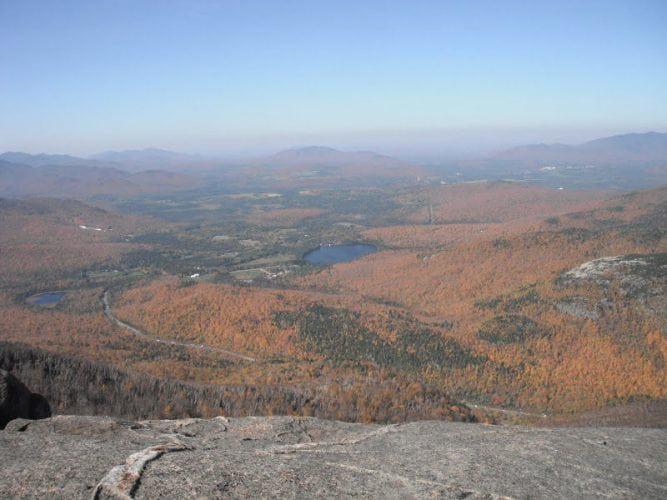 Described as the easier of the High Peaks, the Cascade to Porter Mountain trail is steep at times but it's not an overly tough 5.6 mile trail. At a whopping elevation of 726m up, this trail offers some of the most stunning views of the Adirondacks. It can get chilly at the top, especially in the fall, so be sure to wear a sweater. The easiest way to get to both mountains is to rest on Cascade then continue to Porter. If you're too tired to do Porter, that's OK. Depending on who you ask, Cascade has the better outlook anyway.
Hard
Breakneck Ridge Trail in the Hudson Valley
Near Beacon, NY, Distance 5.9mi, Loop trail, Elevation 660m
This hike is quite steep in the beginning, so it's not recommended for everyone. But if you're up to it, this challenging 5.9 mile trail will reward you with breathtaking, natural views of the Hudson River and Storm King Mountain – especially in the fall. Strap on your hiking boots, bring plenty of water and set aside 2.5-3hrs to do the full white-red-yellow loop.
Image credit AllTrails.com