Dec. 15, 2017, 8:53 a.m. | By:
Aptly, the Mandarin characters that make up the word "Syracuse" translate to "Snow City." And Weather.com recognized Syracuse as #1 of the United States' snowiest major cities, and ranked it as #5 of the top 10 snowiest cities around the world. It's winter in Syracuse.
Not surprisingly, Syracuse is not shy when it comes to winter. To the contrary, the city declared itself the "Official Home of Winter."
While some cities go into scurrying for safety after a couple inches of snow, Syracuse bundles up and jumps right in. When the snow starts flying, this city does not shut down. During a blustery blow, the plows hit the streets and locals and visitors alike come out to play. Syracuse Hancock International Airport has won awards for its snow and ice removal many times.
So, where do the local and visitors play when its winter in Syracuse? Here are the top 5 places around Syracuse you have to visit this winter.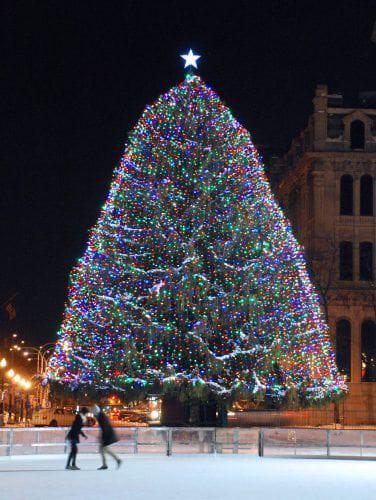 Nothing says winter in Syracuse like ice skating on an outdoor skating rink - and Syracuse has you covered.  In the heart of downtown Syracuse, Clinton Square Ice Rink offers skate rentals, delicious hot chocolate, and a perfect view of the city's 60-foot Christmas tree. Starting January 6th, you can swirl and skate for free on Wednesday nights. The rink is open from the last week of November until March 09. During the rest of the year, the center of the Square is home to the reflecting pool that symbolizes where the Erie Canal once ran.
Syracuse's Empire Brewing Company is the award-winning brewer of handcrafted ales and lagers. The brewery serves local favorites like Skinny Atlas Light - named for Central New York's Skaneateles (pronounced, "skinny-atlas") Lake, and Two Dragons - which combines American craft brewing techniques with the history and precision of the Jing Wei Fu Tea producers.
Offering a brew with a view is Empire's Farm Brewery (the largest Farm Brewery on the east coast) that sits on over 22 acres of virgin farmland in Cazenovia, NY. A tour of the brewery on Saturdays and Sundays (hourly from 12pm-4pm) will get you a complimentary 5-ounce sample of beer.
Both stops offers great food cooked with fresh, locally-sourced ingredients. We recommend you try one of their burgers (with options ranging from elk to beet), creamy mac and cheese, or small plates such as catfish tidbits, nacho fondue, and truffle fries.
Rosamond Gifford Zoo at Burnet Park
Once a small, four-acre facility, the Rosamond Gifford Zoo is now home to approximately 700 animals on 43 acres right in downtown Syracuse. Stop in during a snowy day to experience all of the zoo's active animals. You can stay warm by walking through the zoo's indoor exhibits, or you could venture into the snow to interact with the animals in the outdoor exhibits, which remain open all winter long. Almost half of the zoo's exhibits are outdoors, filled with animals chosen for their ability to adapt to central New York's climate. That's right, you could chill with Amur tigers from Russia.
Rosamond Gifford Zoo even has special pricing during Snow Leopard Days (January and February), when you can visit your furry friends at half-price! That means $2.00 for youth ages 3-18, $4.00 for adults ages 19-61, and $2.50 for seniors. Children under 3 years old and military are always free.
Another great distraction when its winter in Syracuse is to hit the slopes at Toggenburg, just 30 minutes from Syracuse, Bring your own equipment or rent skis and snowboards from their shop. With 22 different trails for riders of all levels, from deep slopes to easy beginner hills, you will find the perfect spot for your abilities. Not ready to go at it alone? There are private and public lessons available for different ages. For a real blast, purchase a 4-hour tubing ticket (only $25) and feel the adrenaline of sliding down fresh powder. Apres ski (or if you prefer to stay firmly on the ground), head to the Foggy Goggle for a beverage and food.
When you're ready to warm up, head to Destiny USA - New York State's largest shopping and entertainment center. Once you've shopped 'til you dropped, there's still plenty more to do! Explore their entertainment options and you'll find something for everyone: drive a race car, climb a ropes course, navigate a mirror maze, or play laser tag. Then hit one of their hotspots for a cocktail, quick meal, and live music. Check out Destiny USA's packages and deals to save money when you shop & play, shop & eat, or shop & stay (at one of the nearby hotels).
Catch Dickens Christmas
Visit Skaneateles on a Saturday or Sunday (from noon to 4 pm) during December, and enjoy the holidays the old-fashioned way with Dickens Christmas. Take a step back in time as you interact with Charles Dickens and his cast of over 50 characters. Walk around the Village's streets, stores, and restaurants for live music, energetic acts, unique shopping, and horse and wagon rides. It only runs through December 24.